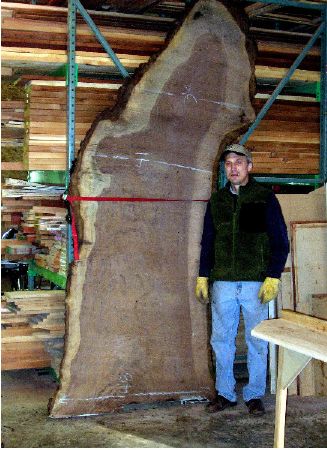 Natural edge slabs have a unique essence to them that create a very special piece of furniture. The above slab was the first cut off a huge Claro Walnut tree that was used to create the desk pictured in the office gallery. George Nakashima was a master at creating works of art from natural edge slabs and really brought this style to the front pages of american design.
Simplistic in design but difficult to execute, you almost need a let each piece define what it is meant to become. Its almost the purest form of working wood as the character of each tree can be preserved and create a direct connection back to nature through the finished piece.
The very large cherry tree that was preserved for special pieces at the Langlade Hospital in Antigo, Wisconsin was processed into natural slabs and will be used to create many natural edge pieces. There are also many other examples listed in the bedroom gallery.